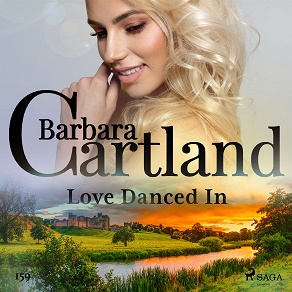 Love Danced In (Barbara Cartland's Pink Collection 159)
The beautiful Joanna West's parents had been killed in a very nasty road accident and as she is the only child she inherits her father and mother's house in the County of Huntingdonshire. When she sees the condition of her house, she realises at once that it will need a great deal of money to be spent on it to make it as warm and cosy as her mother had done. Wondering what she could do to acquire the money that she so badly needs, Joanna remembers the big and impressive Castle nearby and wonders if she could use the spacious ballroom to give dancing lessons to earn her some money. When she approaches the charming and handsome Earl of Hollington, who has recently inherited the ancient Castle as well as his title, he too is desperately in need of money as The Castle had been badly neglected by his predecessors and is looking decidedly dilapidated and shoddy. He agrees to hire out the ballroom to Joanna for her dancing lessons after she has redecorated it and at her suggestion to let other members of the County rent rooms from him, providing that they pay to have those rooms restored. It is then that Lady Carisford, who the Earl only met on board the Liner when he was returning to England, arrives at The Castle unexpectedly. She is determined to capture the Earl as she realises that by marrying him she will own an important title and this will open wide the doors of High Society which she longs to shine in. What happens when Lady Carisford tells Joanna that the Earl has asked her to marry him and how she and the Earl finds true happiness is all told in this romantic novel by BARBARA CARTLAND.

Barbara Cartland was the world's most prolific novelist who wrote an amazing 723 books in her lifetime, of which no less than 644 were romantic novels with worldwide sales of over 1 billion copies and her books were translated into 36 different languages. As well as romantic novels, she wrote historical biographies, 6 autobiographies, theatrical plays and books of advice on life, love, vitamins and cookery. She wrote her first book at the age of 21 and it was called Jigsaw. It became an immediate bestseller and sold 100,000 copies in hardback in England and all over Europe in translation. Between the ages of 77 and 97 she increased her output and wrote an incredible 400 romances as the demand for her romances was so strong all over the world. She wrote her last book at the age of 97 and it was entitled perhaps prophetically The Way to Heaven. Her books have always been immensely popular in the United States where in 1976 her current books were at numbers 1 & 2 in the B. Dalton bestsellers list, a feat never achieved before or since by any author. Barbara Cartland became a legend in her own lifetime and will be best remembered for her wonderful romantic novels so loved by her millions of readers throughout the world, who have always collected her books to read again and again, especially when they feel miserable or depressed. Her books will always be treasured for their moral message, her pure and innocent heroines, her handsome and dashing heroes, her blissful happy endings and above all for her belief that the power of love is more important than anything else in everyone's life.
Listen to sample
---