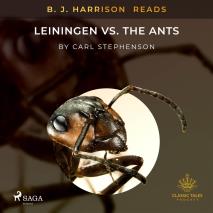 Isbn:
978-87-2657-268-1
Publisher:
Saga Egmont
Category:
Novels
Historic facsimile
Accessible since:
November 2020
Narrator:
B. J. Harrison
Length: 55 minutes
---
B. J. Harrison Reads Leiningen vs. the Ants
Man against nature, Leiningen against ants. Leiningen, an owner of a plantation, gets one day warned that an army of ants is approaching his fields and that it would be smartest to leave. Leiningen is however not going to give up on his land without a fight. The ants arrive and a long and exhausting battle follows. The technology and the power of the human brain are on Leiningen's side. However the ants have a numerical superiority. Who will win this prolonged fight? Will Leiningen save his plantation or will nature be undefeated?
Find out the answers in "Leiningen vs. the Ants" by Carl Stephenson.

Carl Stephenson was a German publisher and short story writer who lived in the period 1893 – 1960. Some of his works are published under the pseudonym Stefan Sorel, but the novel for which he is still best known ´was published under his real name. "Leiningen Versus the Ants" is a story that was first published in 1938 and it was so well accepted by the public, that it was first adapted to a radio play and then later made into a Hollywood film.

B. J. Harrison started his Classic Tales Podcast back in 2007, wanting to breathe new life into classic stories. He masterfully plays with a wide array of voices and accents and has since then produced over 500 audiobooks. Now in collaboration with SAGA Egmont, his engaging narration of these famous classics is available to readers everywhere.
Listen to sample
---