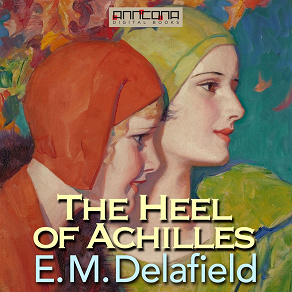 Isbn:
978-91-7605-475-8
Publisher:
Anncona Media
Category:
Novels
History
In english
Accessible since:
January 2020
Narrator:
CJ Plogue
Length: 13 hours 19 minutes
---
The Heel of Achilles
The Heel of Achilles is another great novel by the beloved author of the Diary of a Provincial Lady and over 40 novels, English author E. M. Delafield. 
In this novel the life and interactions of young women during World War I in England, are described. After a difficult childhood, Lydia Raymond, a lower middle-class girl, decides to explore her own individuality and climbs the social ladder. Yet, like everything in life, this has a price. This book tells about her childhood, her quest to find herself, and her relationship with her daughter, Jane, who rebels against her. 
This is a fairytale turned upside down. A fairy-tale—in which Cinderella does all the scheming for herself—with a unique gaiety and sparkle!
The Heel of Achilles was first published in 1920. Audiobook read by CJ Plogue, running time 13 hours, 19 min. Unabridged full version. Also available as E-book: ePUB, 124,800 words, average reading time 10 hours, 25 min.
Listen to sample
---