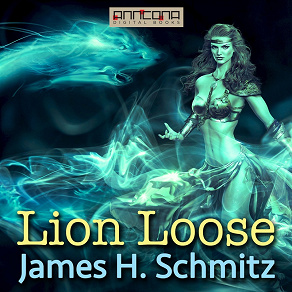 Isbn:
978-91-7759-672-1
Publisher:
Anncona Media
Category:
Fantasy & Sci-Fi
In english
Accessible since:
October 2019
Narrator:
Winston Tharp
Length: 2 hours 18 minutes
---
Lion Loose
Lion Loose is a science fiction novella by James H. Schmitz.

Reetal Destone discovers that the Seventh Star Hotel is rigged to explore after an illicit transaction has taken place involving the hijacking of fifty Hlats, remarkable creatures something like a cross between Chewbacca and a ghost.

Lucky for her "Bad News" Quillan is on the scene. If ever I need a hero, I hope his cognomen contains the words Bad News. That guy's gonna save the day every time!

Quillan shares some equal opportunity flirting with Reetal then gets to work, infiltrating the camps of both sets of bad guys and playing them off each other in a way slick enough to impress Philip Marlowe or the Continental Op – vv .

Reetal is more than just a damsel in distress, she lends a hand too, although she does face some unwanted intimacy with the nasty Duke of Fluel ("I've run into card-carrying sadists before, but the Duke's the only one who scares me silly.")

And all the while the ghost of Chewbacca is on the prowl!

Lion Loose was first published in Analog Science Fact & Fiction October 1961. AUDIO: Reading by Winston Tharp, running time: 2 hours, 18 min. Unabridged full version. E-book: ePUB, 22,700 words, reading time approximately 2 hours. 

James Henry Schmitz (1911–1981) was an American science fiction writer. Schmitz is best known as a writer of "space opera", and for his strong female characters who did not conform to the "damsel in distress" stereotype typical of science fiction of the time.
Listen to sample
---