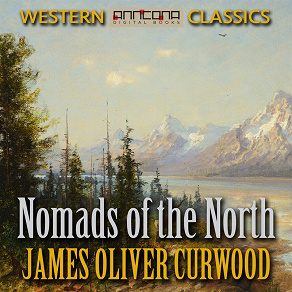 Nomads of the North
Nomads of the North is a novel by American writer James Oliver Curwood.

An unlikely pair were Neewa, the black bear cub who had been orphaned at a young age, and Miki, part Mackenzie hound, part Airedale and Spitz who had become separated from his master in the frozen reaches of northern Canada.

But the two befriended one another, and these nomads fended for themselves until they too became separated in an unfortunate way.

While Neewa searched for his friend, Miki was taken by northern trappers who felt he could be trained to become a good fighting dog, a valuable asset in the north.

What follows is Miki's attempts to flee from his captors and search for his master, and Neewa's search for his canine friend.

Nomads of the North was first published in 1919. AUDIO: Reading by Roger Melin, running time: 7 hours, 43 min. E.Book: ePUB, Length: 65 500 words, average reading time 6 hours, 30 min.

James Oliver Curwood (1878-1927) was an American action-adventure writer. His books ranked among Publishers Weekly top-ten best sellers in the United States in the early 1920s. At least eighteen motion pictures have been based on or directly inspired by his novels and short stories. At the time of his death, he was the highest paid (per word) author in the world.
Listen to sample
---