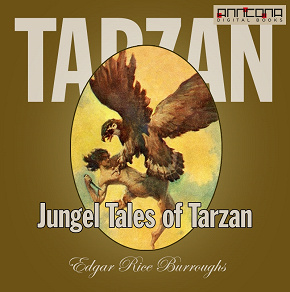 Isbn:
978-91-7605-251-8
Publisher:
Anncona Media
Category:
Novels
Short stories
In english
Accessible since:
May 2014
Narrator:
Ralph Snelson
Length: 7 hours 33 minutes
---
Jungle Tales of Tarzan
Jungle Tales of Tarzan is a collection of twelve loosely connected short stories written by Edgar Rice Burroughs, comprising the sixth book in order of publication in his series about the title character Tarzan. Chronologically it is a midquel to the first Tarzan novel, Tarzan of the Apes, as the events recounted in it actually occur within Chapter 11 of that novel, between Tarzan's avenging of his ape foster mother's death and his becoming leader of his ape tribe. The stories ran monthly in Blue Book magazine, September 1916 through August 1917 before book publication in 1919.

Contents:

    "Tarzan's First Love"

    "The Capture of Tarzan"

    "The Fight for the Balu"

    "The God of Tarzan"

    "Tarzan and the Black Boy"

    "The Witch-Doctor Seeks Vengeance"

    "The End of Bukawai"

    "The Lion"

    "The Nightmare"

    "The Battle for Teeka"

    "A Jungle Joke"

    "Tarzan Rescues the Moon"

Tarzan is a fictional character, an archetypal feral child raised in the African jungles by the Mangani "great apes"; he later experiences civilization only to largely reject it and return to the wild as a heroic adventurer. Created by Edgar Rice Burroughs, Tarzan first appeared in the novel Tarzan of the Apes (magazine publication 1912, book publication 1914), and then in twenty-five sequels, three authorized books by other authors, and innumerable works in other media, authorized and not.

Tarzan is the son of a British lord and lady who were marooned on the Atlantic coast of Africa by mutineers. When Tarzan was only an infant, his mother died of natural causes and his father was killed by Kerchak, leader of the ape tribe by whom Tarzan was adopted. Tarzan is his ape name; his real English name is John Clayton, Earl Greystoke.

Tarzan has been called one of the best-known literary characters in the world. In addition to more than two dozen books by Burroughs and a handful more by authors with the blessing of Burroughs' estate, the character has appeared in films, radio, television, comic strips, and comic books.

Edgar Rice Burroughs (1875-1950) was an American author, best known for his creation of the jungle hero Tarzan and the heroic Mars adventurer John Carter, although he produced works in many genres.
Listen to sample
---