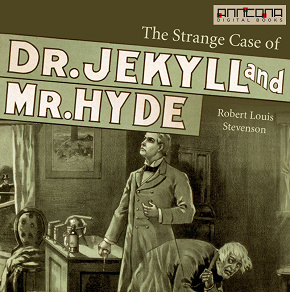 Isbn:
978-91-7605-124-5
Publisher:
Anncona Media
Category:
Novels
Crime & Mystery
In english
Accessible since:
April 2014
Narrator:
David Barnes
Length: 3 hours 7 minutes
---
The Strange case of Dr Jekyll & Mr Hyde
The Strange Case of Dr Jekyll and Mr Hyde is a novella written by the Scottish author Robert Louis Stevenson that was first published in 1886. It is about a London lawyer named Gabriel John Utterson who investigates strange occurrences between his old friend, Dr. Henry Jekyll, and the evil Edward Hyde.

The work is commonly associated with the rare mental condition often spuriously called "split personality", referred to in psychiatry as dissociative identity disorder, where within the same body there exists more than one distinct personality. In this case, there are two personalities within Dr Jekyll, one apparently good and the other evil; completely opposite levels of morality. The novella's impact is such that it has become a part of the language, with the very phrase "Jekyll and Hyde" coming to mean a person who is vastly different in moral character from one situation to the next.

The Strange Case of Dr Jekyll and Mr Hyde was an immediate success and is one of Stevenson's best-selling works. Stage adaptations began in Boston and London and soon moved all across England and then towards his home Scotland within a year of its publication and it has gone on to inspire scores of major film and stage performances.

There are dozens of stage and film adaptations of the novella, over 123 film versions alone, not including stage and radio versions.

Total Running Time (TRT): 3 hours, 6 min. Reading by David Barnes.

Robert Louis Balfour Stevenson (1850-1894) was a Scottish novelist, poet, essayist, and travel writer. His most famous works are Treasure Island, Kidnapped, and The Strange Case of Dr Jekyll and Mr Hyde.

A literary celebrity during his lifetime, Stevenson now ranks among the 26 most translated authors in the world, ahead of fellow nineteenth-century writers Oscar Wilde and Edgar Allan Poe. His works have been admired by many other writers, including Jorge Luis Borges, Ernest Hemingway, Rudyard Kipling, Marcel Schwob, Vladimir Nabokov, J. M. Barrie, and G. K. Chesterton, who said of him that he "seemed to pick the right word up on the point of his pen, like a man playing spillikins."
Listen to sample
---