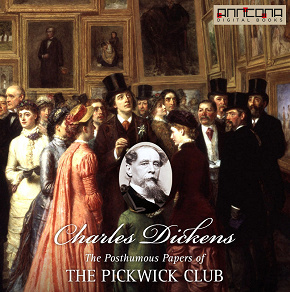 Isbn:
978-91-7605-220-4
Publisher:
Anncona Media
Category:
Novels
In english
Accessible since:
April 2014
Narrator:
Debra Lynn
Length: 29 hours 30 minutes
---
The Pickwick Club
The Posthumous Papers of the Pickwick Club is Charles Dickens's first novel. The action is given as occurring 1827-28. The novel's main character, Samuel Pickwick, Esquire, is a kind and wealthy old gentleman, and the founder and perpetual president of the Pickwick Club. To extend his researches into the quaint and curious phenomena of life, he suggests that he and three other "Pickwickians" (Mr Nathaniel Winkle, Mr Augustus Snodgrass, and Mr Tracy Tupman) should make journeys to places remote from London and report on their findings to the other members of the club. Their travels throughout the English countryside by coach provide the chief theme of the novel.

Its main literary value and appeal is formed by its numerous memorable characters. Each character in The Pickwick Papers, as in many other Dickens novels, is drawn comically, often with exaggerated personality traits. Alfred Jingle, who joins the cast in chapter two, provides an aura of comic villainy. His devious tricks repeatedly land the Pickwickians in trouble.

Further humour is provided when the comic cockney Sam Weller makes his advent in chapter 10 of the novel. With the introduction of Sam Weller in chapter 10, the book became the first real publishing phenomenon, with bootleg copies, theatrical performances, Sam Weller joke books, and other merchandise. The novel has been adapted to both film, television and radio.

Audiobook running time: 29 hours. Unabridged version - 308,771 words - 848 pages in the printed edition.

Charles John Huffam Dickens (1812-1870) was an English writer and social critic. He created some of the world's most memorable fictional characters and is generally regarded as the greatest novelist of the Victorian period. During his life, his works enjoyed unprecedented fame, and by the twentieth century his literary genius was broadly acknowledged by critics and scholars. His novels and short stories continue to be widely popular. Dickens was regarded as the literary colossus of his age. His 1843 novella, A Christmas Carol, is one of the most influential works ever written, and it remains popular and continues to inspire adaptations in every artistic genre. Set in London and Paris, his 1859 novel, A Tale of Two Cities, is the best selling novel of all time. His creative genius has been praised by fellow writers, from Leo Tolstoy to George Orwell and G. K. Chesterton, for its realism, comedy, prose style, unique characterisations, and social criticism.
Listen to sample
---