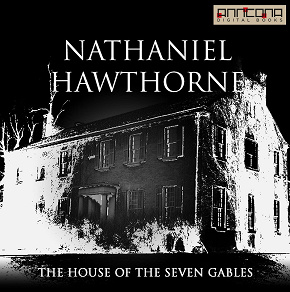 Isbn:
978-91-7605-120-7
Publisher:
Anncona Media
Category:
Novels
In english
Accessible since:
March 2014
Narrator:
Mark F. Smith
Length: 12 hours 14 minutes
---
The House of the Seven Gables
The House of the Seven Gables is a Gothic novel by Nathaniel Hawthorne and published in April 1851 by Ticknor and Fields of Boston. The novel follows a New England family and their ancestral home. In the book, Hawthorne explores themes of guilt, retribution, and atonement and colors the tale with suggestions of the supernatural and witchcraft. The setting for the book was inspired by a gabled house in Salem belonging to Hawthorne's cousin Susanna Ingersoll and by ancestors of Hawthorne who had played a part in the Salem Witch Trials of 1692. The book was well received upon publication and later had a strong influence on the work of H. P. Lovecraft.

Hawthorne, frequently haunted by the sins of his ancestors in the Salem witch trials, examines guilt, retribution, and atonement in this novel. His Pyncheon family carries a great burden, for almost 200 years, as a result of the dishonest, amoral way that the land on which the titular house sits was acquired. In the Preface to the novel, he states that its moral is that "the wrongdoing of one generation lives into the successive ones and... becomes a pure and uncontrollable mischief."

The novel was adapted for the screen in 1940 with Margaret Lindsay as Hepzibah, George Sanders as Jaffrey and Vincent Price as Clifford. In this adaptation, Hepzibah and Clifford were made lovers rather than brother and sister, and the film ends with a double wedding. It was directed by Joe May with a screenplay by Lester Cole. There was also a silent short in 1910 and a remake in 1967. The novel was adapted to a 60-minute television production in 1960 for The Shirley Temple Show with Shirley Temple as Phoebe, Robert Culp as Holgrave, Agnes Moorehead as Hepzibah, and Martin Landau as Clifford. In 1963, United Artists released a horror trilogy film adaptation of three of Hawthorne's stories, with the film titled Twice-Told Tales. The three stories filmed were: "The House of the Seven Gables," "Dr. Heidegger's Experiment," and "Rappaccini's Daughter." While done on a relatively low-budget by Hollywood standards, the film is nonetheless regarded as a classic of sorts, with Vincent Price, Sebastian Cabot, and Beverly Garland delivering good performances.

Nathaniel Hawthorne (1804-1864) was an American novelist and short story writer. He was born in 1804 in Salem, Massachusetts to Nathaniel Hathorne and the former Elizabeth Clarke Manning. His ancestors include John Hathorne, the only judge involved in the Salem witch trials who never repented of his actions. Nathaniel later added a "w" to make his name "Hawthorne" in order to hide this relation. Hawthorne died on May 19, 1864, and was survived by his wife and their three children.

Hawthorne's works belong to romanticism or, more specifically, dark romanticism, cautionary tales that suggest that guilt, sin, and evil are the most inherent natural qualities of humanity. Many of his works are inspired by Puritan New England, combining historical romance loaded with symbolism and deep psychological themes, bordering on surrealism. His published works include novels, short stories, and a biography of his friend Franklin Pierce.
Normal 0 21 false false false SV X-NONE X-NONE
Listen to sample
---