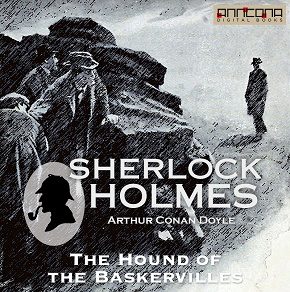 Isbn:
978-91-7605-098-9
Publisher:
Anncona Media
Category:
Novels
Crime & Mystery
In english
Accessible since:
March 2014
Narrator:
Bob Neufeldt
Length: 6 hours 41 minutes
---
The Hound of the Baskervilles
The Hound of the Baskervilles is the third of the four crime novels written by Sir Arthur Conan Doyle featuring the detective Sherlock Holmes. Originally serialised in The Strand Magazine from August 1901 to April 1902, it is set largely on Dartmoor in Devon in England's West Country and tells the story of an attempted murder inspired by the legend of a fearsome, diabolical hound of supernatural origin. Sherlock Holmes and his companion Dr. Watson investigate the case. This was the first appearance of Holmes since his intended death in "The Final Problem", and the success of The Hound of the Baskervilles led to the character's eventual revival.

In 2003, the book was listed as number 128 of 200 on the BBC's The Big Read poll of the UK's "best-loved novel."  In 1999, it was listed as the top Holmes novel, with a rating from Sherlockian scholars of 100 of 100.

Sherlock Holmes is a London-based "consulting detective" whose abilities border on the fantastic, Holmes is famous for his astute logical reasoning, his ability to adopt almost any disguise, and his use of forensic science skills to solve difficult cases.

Holmes, who first appeared in publication in 1887, was featured in four novels and 56 short stories. The character grew tremendously in popularity with the first series of short stories in Strand Magazine.

The stories cover a period from around 1880 up to 1914. All but four stories are narrated by Holmes's friend and biographer, Dr. John H. Watson.

Sir Arthur Ignatius Conan Doyle DL (1859-1930) was a Scottish physician and writer, most noted for his stories about the detective Sherlock Holmes, generally considered a milestone in the field of crime fiction, and for the adventures of Professor Challenger. He was a prolific writer whose other works include science fiction stories, plays, romances, poetry, non-fiction and historical novels.


Listen to sample
---